1 - 2 - 3 - 4 - 5 - 6 - 7 - 8 - 9 - FAQ - Top Annuity Lies
Index Annuities - Immediate Annuities
THE UGLY TRUTH ABOUT
Index Annuities
AKA Fixed Indexed Annuities
Fixed Annuities
Fixed Deferred Index Annuities
(formerly known as "Equity Indexed Annuities")
Hybrid Index Annuities
Guaranteed Income Rider
Expect an internal rate of return on par with CD's
SUMMARY: An index annuity is an inferior financial product that can be expected to provide a very low annualized return on investment of between 1 and 3 percent. Generally the growth of your money stops once you start taking income on an index annuity. Once you reach your actuarial life expectancy there is typically nothing left for heirs.
"Index annuities are a danger to your financial health." -- Clark Howard
"[The insurance company] is not playing Santa Claus. Even with interest rates near record lows, CDs may still do better than indexed annuities". -- William Reichenstein Article
"The opacity of [index annuity] fees and complexity of the return calculations makes it impossible for investors to figure out if they're getting a good deal". -- Glenn Daily, a fee-only insurance consultant based in New York. Article
"[Indexed annuities] carry exorbitant and indeterminable costs, lack of federal regulation and an inability to decipher what the investments will earn... They are complicated investments sold to unsophisticated investors." -- Craig McCann, Ph.D. and CFA, and Dengpan Luo, Ph.D. and CFA
"Some 99% of the time, indexed annuities under perform a simple portfolio that's 60% in zero-coupon Treasuries and 40% in a low-cost S&P 500 index fund, according to a 2008 study by economic consultant Craig J. McCann" -- Forbes Magazine
"[Indexed annuity] contracts have really high hidden fees. That's why they're terrible ideas for older people even though they're peddled to them." -- Kent Smetters, a former U.S. Treasury Department economic policy official and professor of insurance at the University of Pennsylvania's Wharton School
"...if the sales hype is replaced with analysis, most astute individual investors will avoid [index annuities]. Giving up dividends plus imposing a cap on market capital gains is far too severe a penalty to pay for protection against periodic market losses. Astute investors seeking long-term tax-deferred accumulation are likely to have their investment returns substantially muted by investing in indexed annuities, if history is any guide." -- Peter Katt, CFP, a fee-only life insurance adviser
INDEX ANNUITIES EXPOSED: Two University professors (Yale and UCLA) discovered that investors would be better off in a simple portfolio of U.S. Treasury bonds and large cap stocks – a whopping 97% of the time! Other studies have suggested that when someone buys an annuity this typically results in a wealth transfer of as much as 15% to 20% from the investor to the insurance companies and the sales agents. SOURCE
A Telling Tale: Guests at the Tiburon CEO Summit include the top investment advisers, top executives of the largest brokerages, insurance companies, mutual funds companies, private equity firms and technology companies serving the financial sector. According to Ric Edelman, when surveyed, it was found that nobody at the 2014 summit owns fixed annuities! If the biggest and best money minds themselves don't own fixed annuities then why should you?
"Index annuities are the 'poster children' for products that are too good to be true" -- Larry Swedroe
"I've shown no interest in these fixed index annuities for a variety of reasons" -- Bob Brinker, consumer advocate radio host
REALLY LOW RETURNS: "Index annuities are CD [like] return products" -- Stan Haithcock, an annuity salesman
REALLY LOW RETURNS: "...returns of 1-3% which all indexed annuities will return."
"Expect returns on par with CD's"
-- Chris Wang, Runnymead Capital
"Annuity Agent Commissions Are Built Into the Policy"
"The next time an annuity agent says that they charge [you] no fee, stop them mid-sentence and tell them to stop playing word games" -- Stan Haithcock, annuity salesman
Ric Edelman's list of 15 investments to avoid includes index annuities.
Fixed indexed annuities are sold to unsophisticated investors using several clever deceptions:

"The stock market [alone] is risky!" -- Annuity salesman strawman argument

"Look at the high rate of annuity return!" -- Annuity salesman switcharoo

Failure to mention that the growth of your money stops once you take income.

Failure to mention that death denefit (inheritance) value erodes quickly.

Failure to mention that terms (caps, etc) of the annuity contract can change.
1) Commission-based advisors love to present strawman arguments. The most common insurance industry deception is to appeal to low-risk investors by looking at the performance history of a high-risk portfolio of 100% stocks during bear market periods.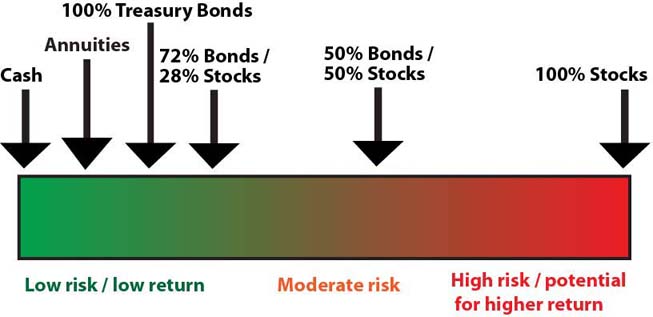 Many naive investors are completely unaware that when you diversify heavily into bonds, the markets are very consistent. From 1970 to 2010 the lowest risk stock/bond allocation was 72% bonds and 28% stocks.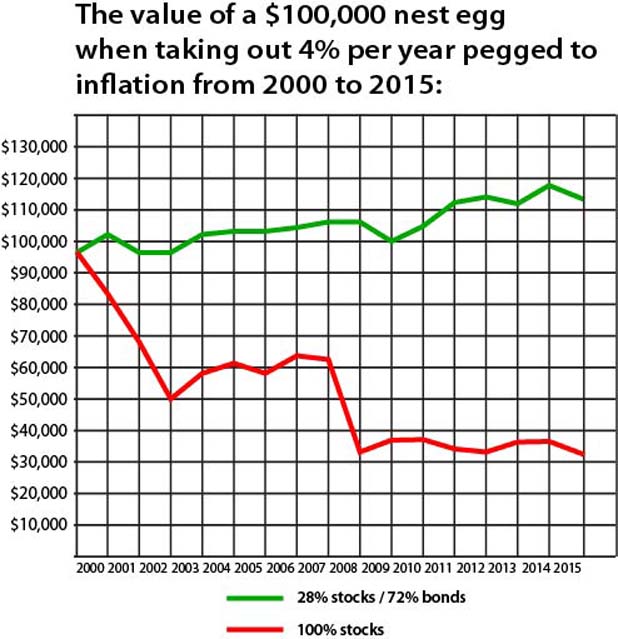 Note: The above chart factors in calendar rebalancing on Jan 1 of every year
Above rate of withdrawal for each year: Jan 2000: $4,000, 2001: $4,136, 2002: $4,251.81, 2003: $4,319.84, 2004: $4,419.19, 2005: $4,538.51, 2006: $4,692.82, 2007: $4,842.99, 2008: $4,978.59, 2009: $5,167.78, 2010: $5,147.11, 2011: $5,229.46, 2012: $5,396.81, 2013: $5,510.14, 2014: $5,592.79, 2015: $5,682.28, 2016: $5,687.96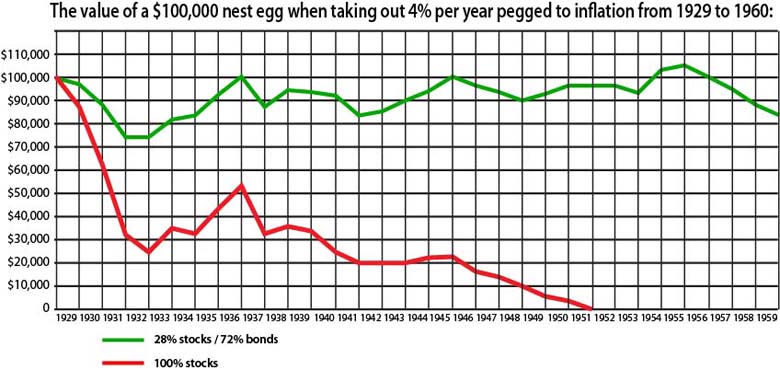 Note: The above chart factors in calendar rebalancing on Jan 1 of every year. Furthermore, returns are not adjusted for deflation. There was double digit deflation during the 19230's. In reality your portfolio did not drop to the $75,000 range when adjusted for deflation.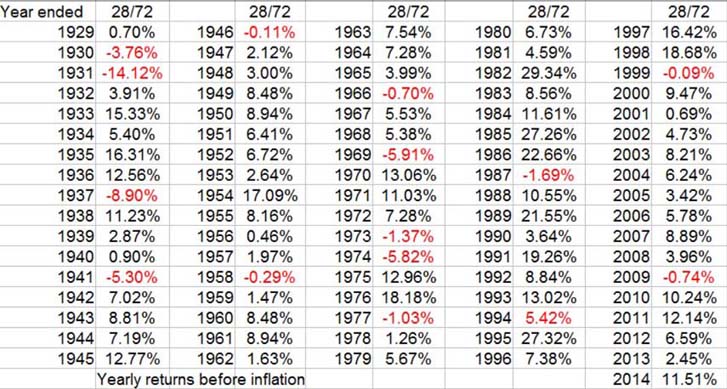 NOTE: This is not to say that a 28/72 portfolio is the best allocation strategy for you right now. The returns of a 28/72 mix are presented to demostrate how safely and easily an annuity is outperformed if all you need to do is beat an annuity. Speak to a fee-only fiduciary on a one-time or one-task basis if you need personalized allocation ratio help.
NOTE: Some annuity salesmen love to cite the early 1930's depression to instill fear of the open markets, but the markets today are a different beast than they were in that age. Back then there was a lack of government regulation coupled with fraud which inflated prices, creating a bubble. There was also wild speculation fueled by easy credit which further led to artificially inflated stock prices. By the late 1920's borrowed money accounted for a whopping 90% of stock purchase prices. 40% of every dollar loaned in America was for stocks. Stocks had become so over hyped that even shoe shiners were borrowing money to invest in stocks. And when accounting for 1930's deflation, at not time did a 75/25 portfolio lose money.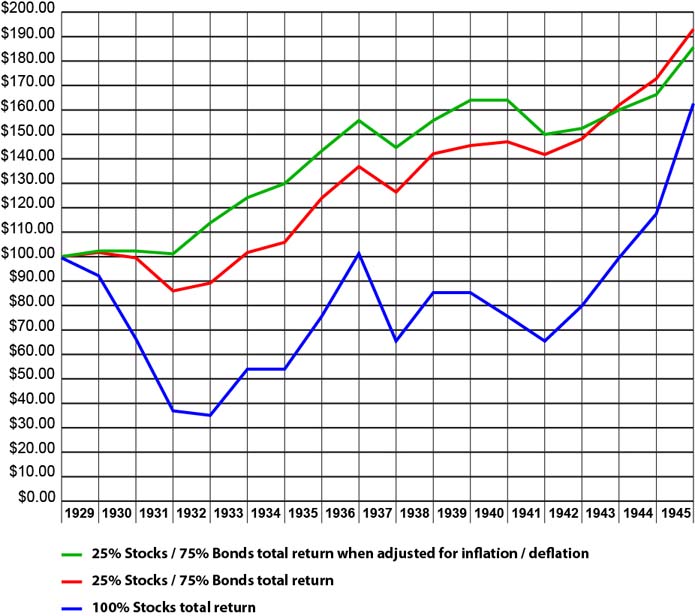 2) Confusing roll-up value, accumulation value, accumulated value, income pool, income rate, income value, interest crediting or income base as somehow being return on investment or cash surrender value: The only way to compare the performance of an investment product to other investments like bond and stock ETF's is to calculate the return on investment (ROI) after you cash out or your heirs inherit what's left (if any). When people talk about stock and/or bond market returns, they speak in terms of ROI on an annualized basis. For example in the year 2014 the S&P 500 index provided a total ROI (including dividends) of 13.52% and 10 year treasury bonds provided a total ROI (including interest) of 10.75% for the same year.
Compounding Returns: Furthermore if an annuity has a period of several years whereby no distributions are paid out to the annuitant (often referred to as the "accumulation phase") then we should be comparing the annuity to the compounded returns of other investments (like bond and stock index funds). An investment grows faster when dividends are reinvested and gains are left untouched to continue to grow. For example an investment of $100,000 that grows for 10 years at a perfect rate of 6% each year left you with not $160,000, but $179,084.77. In a real world example, from Jan 1, 2000 - Jan 1, 2013 when a portfolio of 25% S&P 500 index and 75% total bond market index was allowed to compound and rebalanced at the end of each year, it provided an average annualized ROI of 6.2%.
Simple Interest -- Not compounding interest: Unfortunately insurance companies use simple interest instead of compounding interest to calculate index annuity returns. This further mutes index annuity returns.
So the problem with index annuities is that when Mr. Commission-based adviser ambiguously talks about "return" he's not talking about return on investment, surrender value or death benefit value. He's merely talking about the growth rate of your money which at the "distribution phase" will serve as a basis for determining how much you will receive in income payments. Insurance companies might use terms such as "interest crediting", income base", "protected benefit value" or "accumulation value", none of which refer to what really matters, namely "underlying value" (minus closing or surrender fees), "cash surrender value" or "death benefit value" which will ultimately allow you to determine the measurement that really matters: Return on investment!
To top it off, once you annuitize an index annuity, depending on the terms of the contract, your heirs may be limited in how much they receive. This further reduces the final calculation of your actual return on investment.
Think you can estimate the actual ROI of an index annuity?
According to Glenn Daily, a fee-only insurance consultant "The opacity of the [index annuity] products' fees and complexity of the return calculations makes it impossible for investors to figure out if they're getting a good deal."
Note that once you enter the income phase of an annuity contract it gets to the point that you would need to be a mathematician to calculate return on investment results. This is just one reason why you might encounter investors who are "happy" with their index annuity. They have no idea how their index annuity has performed versus a bond index fund / stock index fund portfolio, let alone what the difference between accumulation value or income rate and actual internal rate of return (or return on investment) is.