The Pros and Cons of Annuities
1 - 2 - 3 - 4 - 5 - 6 - 7 - 8 - 9 - FAQ - Top Annuity Lies
Index Annuities - Immediate Annuities
Annuities are technically not investments
Annuities are classified as "insurance products". Annuity salesmen like to make you feel warm and fuzzy by labeling annuities as "income products". But how they want to classify annuities makes no difference! Annuities are still expensive, highly taxed, inferior performing products where people put their money. You need insurance for things like your car and your house, but not for your money.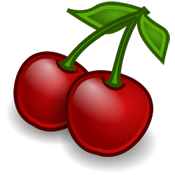 Massaging their own cherry picked studies
Annuity pushers are very adept at doctoring up their own studies in order to make annuities appear to outperform normal investments such as index funds. These studies are all flawed.
Just for starters I'd like to see a risk adjusted study that compensates for all of the many investors who paid contingent deferred sales charges (also known as early surrender penalties) and the nasty 10% federal tax withholding penalties plus additional state tax penalties!
Beware of "advisers" who claim annuities are safer than CD's
Annuities should never be compared to CD's because, for one thing they are not as safe as CD's. They will try to scare you by talking about how banks only keep $1.37 for every $100 on deposit. In reality no one has ever lost a dime of FDIC-insured deposits. Secondly, putting your money in a CD is not investing. One of the most basic principals of investing is to never bear too much risk or too little risk. Putting all of your money in a certificate of deposit is taking way too little risk. You won't even begin to keep pace with inflation. Of course if you have already reached your financial goals and have enough money to last your life expectancy, sitting on cash (certificates of deposit) might make sense for some. But for most people, if you wake up and decide to finally become an investor by taking some risk then there are much better alternatives to annuities that involve a simple diversification of stock and bond ETF's. Hire a fiduciary RIA if you can't figure out how to pick a simple portfolio for yourself.
Beware of "advisers" who use the words "safe" or "risk free" to describe annuities
The state of Colorado recognizes that words like "safe" give a false impression of life insurance and annuities. And the words "risk free" also give a false impression. In reality insurance companies can become insolvent, state guarantee funds can become tapped and this leaves annuitants hung out to dry. The Colorado Insurance Division has ruled that these words may not be used in advertisements due to the potential for misleading consumers.
Advisers use a false choice to serve as a selling point
The false choice used by advisers who push annuities is that you can either invest in a stock heavy portfolio or you can put your money in an annuity. They predictably compare conservative (an annuity) to risky (stocks or a stock heavy portfolio) during a bear stock market period. They completely discard the most appropriate option: a bond heavy portfolio.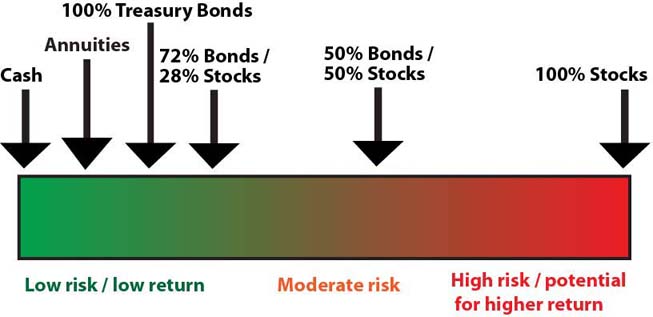 When someone considers an annuity they have thrown in the towel and given up on the volatile stock market. But what would happen with a portfolio of 72% 10-year treasury bonds and 28% VOO the S & P 500 stock index during a minimum 10-year period (because annuities are a long-term commitment)? History has shown that there is no crazy volatility! Please note that there was deflation in the range of 9% to 10% from 1931 - 1932. A 1930's-like decline is also highly unlikely for many reasons.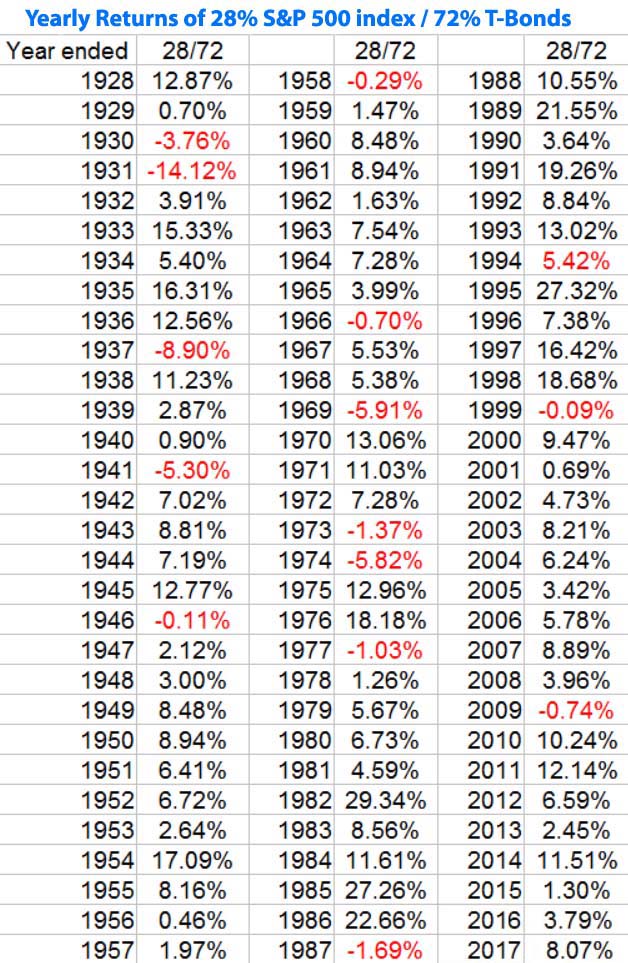 DEBUNKING A MYTH: Afraid of a repeat of the 1929 crash and great depression? When accounting for the deflation which was occurring back then, a 75/25 portfolio actually never lost money!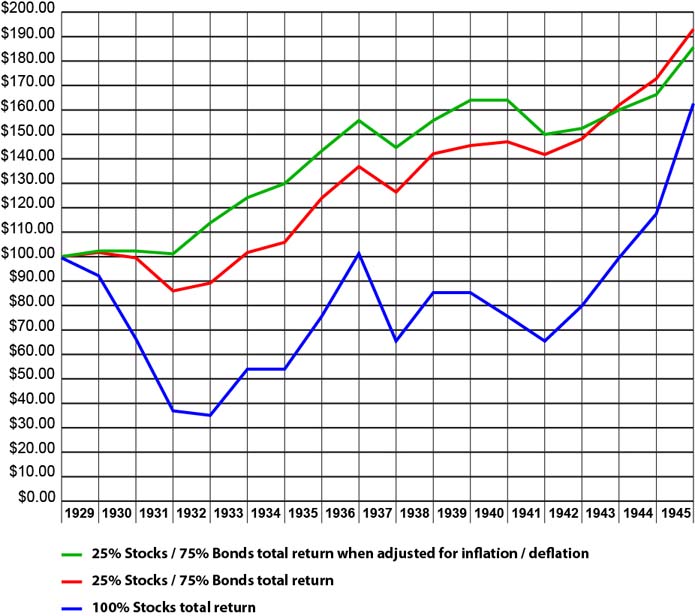 Beware of "advisers" who compare annuities to stocks alone
An insurance company keeps releasing this graph that appears at first glance to show that their "reset design" greatly outperformed the S & P 500 index over a 14 year period from 9/30/1998 to 9/30/2013. See if you can figure out how this study is likely to fool naive investors...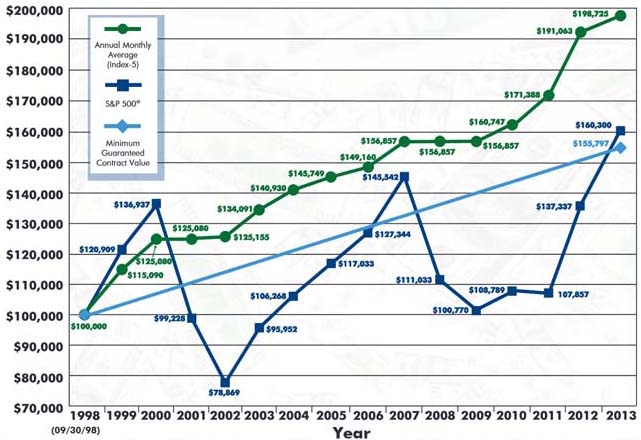 1) DIVIDENDS THROWN OUT: For starters, if you didn't read the fine print associated with this study you would never know that they conveniently used the S & P "price return index" which excludes dividends. Yes their annuity is based on the price return index BUT for anyone who was using this chart to evaluate and compare investment options, it leaves a distorted impression. Investing 100% in the S & P 500 index is not a fair comparison to investing in an annuity. They are polar opposites on the risk / reward scale. Remember that annuities are sold to investors who are IGNORANT of how bonds protect against stock market volatility, and insurance companies and salesmen are well aware of this!
2) BONDS MITIGATE STOCK RISK: For anyone who might have been confused by this chart, it is completely ludicrous to compare index annuities with stocks alone! This is not an apples to apples comparison! The type of market fearing investor who might consider a conservative investment like an index annuity would never otherwise put 100% of their money in the S & P 500 index! A more realistic "apples to apples" comparison might be to compare index annuities with a conservative portfolio of 75% Barclays Aggregate Bond Market and 25% S & P 500 stocks. In this case, from January 1, 2000 until January 1, 2014 the total return of the 75/25 portfolio was $234,256. This compares with just a total return of $198,725.00 for their best index annuity when using 9/30/1999 as the starting point for the annuity. See the chart below.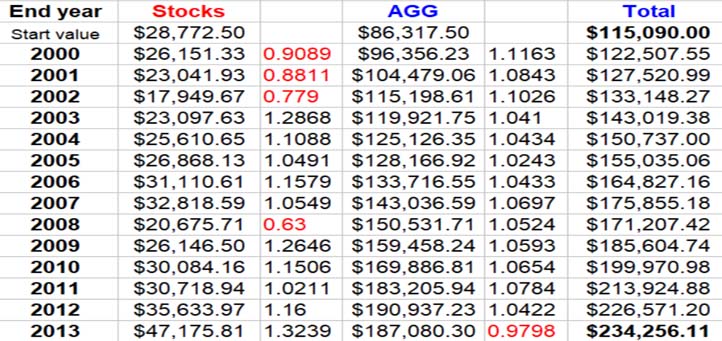 NOTE: I have not factored in trading costs (which would only be about $14 to buy in with Scottrade and $14 to cash out) nor costs of owning bond and stock ETF's. For example VOO has an expense ratio of only .05% per year and SPY has an expense ratio of just .09% per year.
Performance return statistics were gathered from this site.
3) HIGHER ORDINARY INCOME TAX RATE: And while this study does not factor in annuity savings from tax deferral, it also doesn't factor the tax savings when considering that the 75 /25 portfolio is not subjected to the higher ordinary income taxes. According to Wealth Manager's article "Photo Finish" regarding annuity tax deferral in general, when all said and done, it does not favor the annuity.
4) CHERRY PICKED TIME PERIOD: They picked a mostly bearish time period that would make the S & P 500 index look bad.
5) ONE SINGLE CHERRY PICKED CONTRACT: The "Index-5" green line is actually supposed to be based on an actual consumer's annuity. Notice how from Sept 30, 2010 to Sept 30, 2011 the S&P 500 index dropped slightly, yet the "Index-5" account value went up from $160,747 to $171,388. How on earth did that happen if the S&P 500 index was the crediting method? This is because the annuitant just happened to in fact switch crediting methods at just the right time to a "mixed allocation". So this chart does not show a strict adhering to the S&P 500 index as a crediting method. In other words the insurance company may have cherry picked this contract in order to put their best foot forward. If they showed a simple ongoing use of the S&P 500 index as the crediting method then the ending value on September 30, 2013 may have been less than $198,725.
6) REBALANCING: In addition to not comparing their annuity to a low risk stock / bond portfolio, this study also never examined the positive effects of rebalancing. Stock / bond rebalancing is a basic strategy that increases returns. According to Vanguard, simple rebalancing can add up to 0.35% per year to a portfolio value. An index annuity cannot be rebalanced.
7) WHAT IS MY CASH SURRENDER VALUE? Last and most importantly, the green "annual monthly average Annuity-5" line is a meaningless value if it is not the cash surrender value. You can read the brochure for this annuity if you like. It is unclear if the green line value is also the cash surrender value which would ultimately determine annualized return on investment. If the contract holder wanted to cash out in 2013 would they actually get $198,725? If they indeed were able to cash out with $198,725 then their annualized return on investment after 15 years was only 4.68%. This does not factor in surrender penalties. Unfortunately I do not have Barclay's US aggregate total return index data using September 30th as the calendar year start date. So I instead calculated 25/75 investment returns beginning 3 months later on January 1st of each year because this total return data is easily accessible. It's not a perfect comparison but it's bound to be generally close.
Most investors fear stock market crashes. The "lost decade" began in 2000. So let's instead see how the annuity did from 9/30/1999 to 9/30/2013. It provided a 3.975% annualized ROI -- Again this is assuming that 'Index-5' actually represents cash surrender value. By comparison, with 25% in the S&P 500 total return index and 75% in the US Barclay's aggregate index from 1/1/2000 to 1/1/2014 you still came out the winner with a 4.18% annualized ROI. And you were $35,531 richer, again not counting less than $20 in trading costs to buy 2 index funds like SPY and AGG and not counting the miniscule index fund expense ratios and turnover costs. Again, this is during the worst of times for traditional investments, the year 2000 onward!!! Also keep in mind that index funds are 100% liquid. Cash out at any time for any reason, without penalty! All in all this makes traditional investing the superior choice.
BELOW: The performance chart that the insurance industry doesn't want you to see. Notice how bonds smooth out stock market volatility.