The Pros and Cons of Annuities
1 - 2 - 3 - 4 - 5 - 6 - 7 - 8 - 9 - FAQ - Top Annuity Lies
Index Annuities - Immediate Annuities
Headline of "Tax Deferral" is over rated!
In reality annuities may be a tax disadvantage!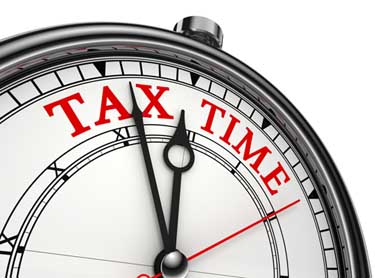 When you invest money in an annuity, your profits become subject to the "ordinary income tax rate" which is much higher than the normal "capital gains" tax rate that you enjoy with normal investments like stocks, bonds and ETF's. So when Mr. Annuity Salesman starts boasting about how gains (such as dividends) are deferred, he's not telling you that eventually the government will simply make up for it, and then some with higher taxes. What matters is not what you make, but what you keep! Does an annuity's deferred taxation advantage outweigh the fact that in the end (at the time of distribution) earnings are taxed at the higher ordinary income rate? That question was tackled in a Wealth Manager article called "Photo Finish" in which the effects of ordinary income taxation on annuities was studied. When they compared a variable annuity to other tax efficient investments it was determined that if you invested half a million dollars, after 20 years you would be $270,000 richer had you just avoided a variable annuity. Although this study looked at a variable annuity, the study inherently sheds light on all annuities and concluded "the tax-deferred accumulation feature of annuities is overrated". And this study compared the annuity with a very expensive separate account that had a hypothetical 1.5% in annual fees -- not a portfolio of low cost ETF's! For example the expense ratio of VOO is only 0.08% per year and BND's expense ratio is only 0.10%! The study also assumed a higher (and more costly) separate account turnover rate. A portfolio of low cost ETF's would have done much much better than the annuity. It should also be noted that this study was conducted in 2004. The capital gains tax has been raised some, but to my knowledge there is no recent study, so at best an annuity salesman should not be making conclusive statements that the tax-deferral feature is and will be a net gain. Remember that calculating annuity taxation versus normal ETF investments is extremely complicated and changes depending on the person's tax bracket, which nobody can predict moving into the future. Also the IRS is subject to change the tax structures. Here's the numbers from the 2004 Wealth Manager study....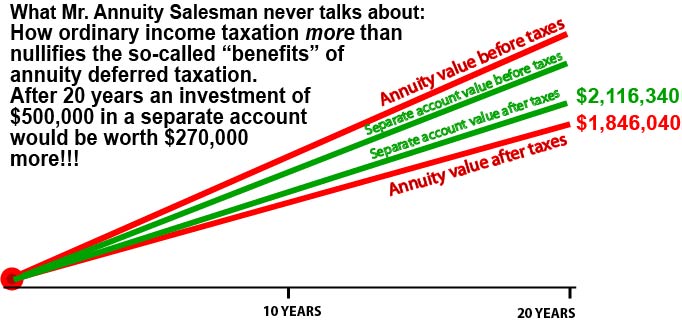 A Santa Clara University researcher also came to a similar conclusion, that annuities actually perform WORSE over time when compared to plain old unmanaged index funds. Annuities are a tax time bomb.
Also even if you choose to believe that you will break even or save money with an annuity, do not lose sight of the fact that even the lowest cost variable annuity is more expensive than normal investments like ETF's, and other annuities (such as index annuities) have the deck stacked against you with things like lower participation rate caps, etc. Don't lose sight of the fact that taxation is just one aspect of annuities that you need to look at.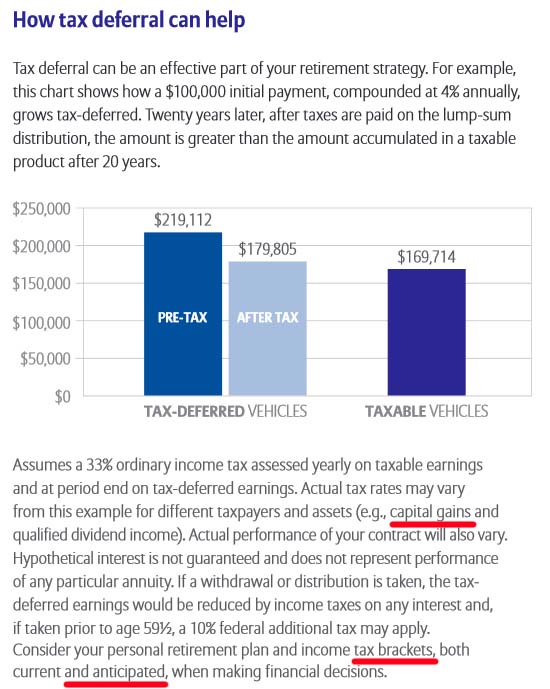 AT RIGHT: Deceptive insurance company advertising at its best. This insurance company chart might lead senior citizens into believing that with an equity index annuity they will be saving on taxes. This chart conveniently did not compare the annuity to normal investments, which are taxed at the LOWER capital gains tax rate. If your current and future tax bracket isn't a super low one, then your annuity will be taxed to death as I explain in the next paragraph! By the way, nobody can predict what their tax bracket will be in the future (example: You are forced to sell your home at a large gain, forced to sell your annuity to pay for a loved one's medical bills, etc, etc). I've underlined the critical points that this insurance company glossed over.
It's not what you make, but what you get to KEEP!
Seeing is believing: Annuity distributions are taxed excessively!
Thus annuities are an even longer commitment!
In the chart below I used Turbo Tax 2013 to compare taxation of a normal annuity distribution versus taxation of the same amount of income (or sales) from a normal portfolio (of ETF's, bonds, stocks, dividends, interest). As you can see, the annuity gets taxed to death! The more money you pull out of an annuity the nastier the effects of ordinary income taxation, hence the need to tightly control money taken out of an annuity each year. Don't expect Mr. Annuity Salesman to talk about any of this. This is why annuities are long, long, long term investments. If you were under the impression that after the insurance company's "surrender period" passed or if at any time down the line you suddenly wanted to cash out, you could just pull it all out at once, you will find out the hard way what "liquidity risk" really means and why an annuity is the worst investment you could have ever chosen.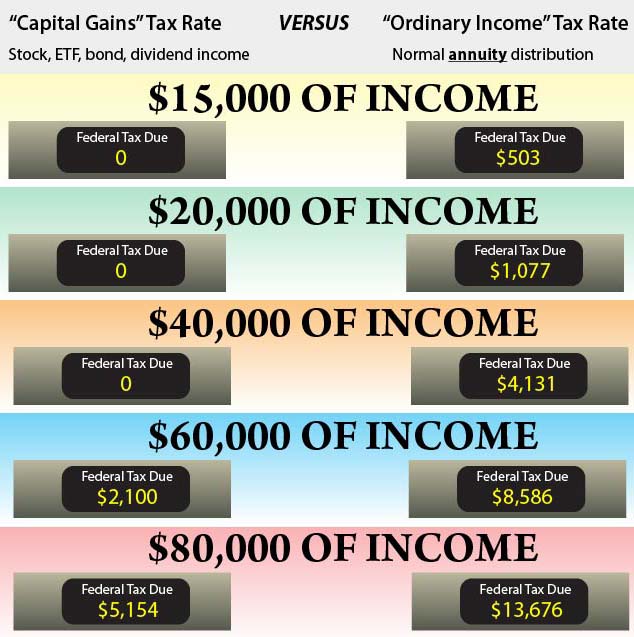 Annuities have extremely limited tax write-off ability
If you have such things as investment losses, the IRS currently only allows you to deduct $3,000 in losses each year to offset ordinary income. The rest carries over to the next year upon which you can continually only deduct $3,000 in loses per year for as long as you live. So if you have a huge loss to write off, you may never even get a chance to write it off. This hurts both you and your beneficiaries. For example $40,000 in annuity distributions minus $40,000 in stock loses equals $37,000 in taxable income for the year.
In contract, with normal investments like ETF's you can deduct loses from capital gains income dollar per dollar. For example $40,000 in stock gains minus $40,000 in stock loses equals zero taxable income for the year.
Taxable gains must be withdrawn first -- Not principal
Also known as "last in / first out" or "LIFO" for short. Whenever you take a distribution from an annuity, the IRS requires that taxable gains must be withdrawn first. This contrasts with ETF's, stocks, bonds and other normal investments which can be strategically sold on an individual basis in order to minimize your taxes.
Headline of "Tax Deferral" would be meaningless to those who
already have their money in tax deferred accounts
Annuity salesmen may proudly proclaim that annuities grow tax deferred, yet according to LIMRA 58% of annuity buyers are already invested in tax-deferred accounts such as IRAs. So 58% of investors were really sold something they didn't need! And as previously stated the Wealth Manager study demonstrated that there is no advantage to tax deferral anyway. Either way you are being sold snake oil.
The fraudulent 10% annuity salesman lie
I've found numerous websites and You Tube videos that shamelessly only talk about the 10% pre-age 59 1/2 early withdrawal penalty, with NO mention (or they gloss over) the fact that there's a whole lot more than a 10% penalty that will hit you if you withdraw money before age 59 1/2. Even after age 59 1/2, when the 10% penalty goes away, there's tons of other mandatory taxes to worry about. Tax accountants report that it's very common that they have clients who are stunned to find out years later (at the time of having their taxes prepared) that there are additional taxes far above and beyond the 10% that they were told by Mr. Annuity Salesman. You also have the state withholding tax (about 1% in California) plus you must pay ordinary income tax on gains. In accordance with the Post Tefra act, whenever you withdrawal money from an annuity, gains are first withdrawn (and taxed!) before principal is withdrawn. So if your non-qualified annuity has gained in value you can expect to be taxed 3 times (state, federal, plus ordinary income taxation). Enjoy!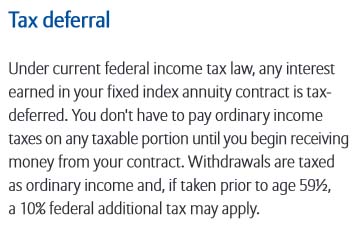 At right is an actual screen shot from an Allianz brochure that advertises equity index annuities. They never mentioned that you may pay a state penalty.