Investing in Gold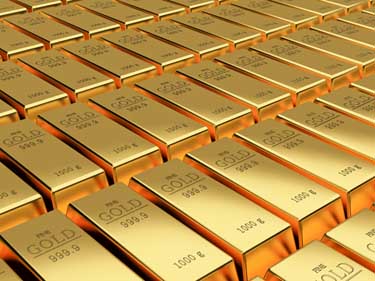 Looking back over very many decades, gold has been a very poor long-term buy-and-hold "investment" compared to asset classes like stocks. Long-term investors should never lose sight of this. Gold is usually not considered an "investment" but rather a form of "capital preservation" -- like hiding money under your mattress.
Gold doesn't "work" to generate income like a for-profit corporation works to produce goods and provide services. Gold doesn't pay dividends either. Gold just sits and collects dust. Furthermore, unlike other commodities such as oil, coffee, cotton, etc, the supply of gold never gets used up. It just changes hands. Also miners continue to extract more gold, and this negatively effects the price of gold. It's simple supply and demand.
Gold is taxed at the higher "collectibles" tax rate (usually up to 28%) whether you buy physical gold or ETF gold. Dealers of physical gold also charge perhaps a 5% to 6% markup over the spot price of gold when you buy bullion (not collectible coins). The most reputable dealers (such as Wilshire Coin) don't charge any markup when you sell. So when comparing gold to publicly traded bond and stock ETF's, the potentially higher tax rate and the high 5% - 6% dealer markup costs are significant and should make anyone think twice before investing a lot in metals.
On the bright side, gold is a tangible asset that cannot be "printed" as paper currencies can be devalued. Accordingly gold has historically been perceived as a hedge against depreciation of the US dollar -- government "printing" (or spending) money that it doesn't have, as well as bank failure / loss of uninsured cash deposits.
Gold prices are highly tied to investor sentiment. Negative sentiment about the market (stocks, bonds, the economy, etc) tends to send gold prices higher. And improving perception about the economy tends to send gold prices lower.
Gold can also be looked upon as a hedge against stock market collapse within a diversified portfolio of many investments. When stocks collapse, gold tends to perform considerably better. Jim Cramer likens gold to an insurance policy against economic or geopolitical chaos, uncertainty and inflation. When stocks fall in response to these negative things, gold tends to go up instead, and this minimizes your downside risk. Very wealthy people who normally keep bank deposits over and above the FDIC limit of $250,000 may look to hold gold instead.
Don't ever be confused into thinking that gold is the only hedge against inflation. Gold dealers often boast about gold being "a hedge against inflation". The operative word is "a". Gold is just one of many hedges against inflation. So are any other assets such as oil, natural gas, farmland, and to a lesser degree commercial real estate. Even stocks can be a hedge against inflation. As a hedge against inflation you might fine tune your stock asset class holdings to include ETF's like IYM (basic materials) and VDE (natural resources).
Sources of gold demand 2008 - 2012:
49% - Jewelry
28% - Bar and Coin
11% - Tech and industry
9% - ETF's
4% - Central banks and governments
.
In this chart (below) we see that by the end of the 2008 to 2009 stock market collapse, gold performed more than 50% better than stocks. However don't lose sight of the fact that bonds are generally what most investors use to hedge against stock market drops. When stocks crash, money runs to the safety of bonds.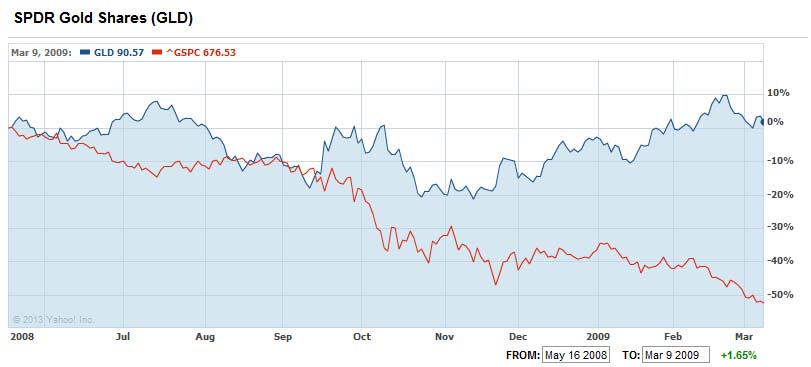 Gold is all about timing. Time it right and this is a road to riches. Get it wrong and you'll miss the train while other investments like stocks move upward. If you bought gold at it's peak in 1980 and sold at it's low in 2001, then during that long 21 year cycle gold went from an average of $612 an ounce down to $271 an ounce. Meanwhile stocks went on a tear. Gold was definitely not the place to be then!
But from 2001 to 2011 gold went on a tear from a low of $256.60 to over 1,900 an ounce. Gold has since declined significantly. Is this the end of a bubble or will gold bounce back and appreciate even further? There are many forces (debt, inflation, bond prices, investor attitudes and perceptions, etc) that all affect gold prices. Bubbles may move in slow motion over many years. The main argument to own gold is that massive government debt is not going away any time soon. Some alarmists argue that quantitative easing is not doing much of anything to spark the economy and that the Federal government may eventually have to default on obligations (a so-called "debt reset" scenario), in which case gold may be one of if not the only safe havens. Even if this were to play out, it might not happen for a very long time (as stocks continue upward). The reverse argument is that the economy will improve to the point that the Federal defect can be reduced.
Bears will say that the United States' national debt is too great and that our national debt likely cannot be paid back. However there are many other factors that effect the price of gold. India and China account for 40 - 50% of the gold demand, so what they do has an impact on gold prices. Some believe that the Federal Reserve shorts gold on a massive scale in order to drive the price down and this in turn flushes out fair weather gold investors. So far the recent dire predictions have not materialized. Many of the doom and gloom predictions come from people who sell gold. The way to sell something is to scare them.
From 2003 to 2011 gold vastly outperformed stocks. However going back many decades gold has lagged. From 1979 to 2008 all stocks returned 11.93% annually, whereas gold only returned 5.36% per year.
Author and gold dealer Mike Maloney has pointed out a gold VS stocks cycle that has occurred over the last 100 years. When stocks have fallen out of favor (bear markets), gold has gone up. When stocks have risen in value (bull markets), gold under performs. Had you played this cycle, switching from stocks to gold or gold to stocks, you would have accumulated great wealth. Based on his cycle model he believes that stocks still have not reached rock bottom and gold still has to go up. He believes that sometime this decade there will be a worldwide currency collapse and a rush to gold and silver. But again, he sells gold, and historically there has not been any correlation between currency prices and metals prices.
On the other hand, financial guru Bob Brinker said on 1/18/2015 that the people who are predicting a collapse of the dollar "should hang their collective heads in shame for the bad advice they have given people. Not only has the dollar not collapsed, it has skyrocketed in value. These people are nuts! "