The Pros and Cons of Annuities
What is an annuity? A really bad place to put your money to work!
PAGE 1 of 9 (next)
1 - 2 - 3 - 4 - 5 - 6 - 7 - 8 - 9 - FAQ - Top Annuity Lies
Index Annuities - Immediate Annuities
OVERVIEW:

One of the most expensive of all financial products (fees or baked into the product).

Unnecessarily and insanely locking your money in prison for many years if not for life.

Heirs may get nothing at the time of your death.

Past index annuity internal rates of return lack transparency. Cannot research on Yahoo Finance, etc.

Lacks liquidity due to an insurance company early withdrawal (surrender) penalty.

Lacks liquidity due to a Federal pre-age 59 1/2 early withdrawal tax penalty of 10%.

Lacks liquidity due to an additional State pre-age 59 1/2 early withdrawal tax penalty.

Lacks liquidity due to much higher and escalating ordinary income tax rate.

Are sold to investors who are ignorant of diversification (how bonds protect against stock loss).

Are falsely marketed based on unrealistic hysteria about market volatility that has never existed.

Are falsely marketed by comparing conservative (annuities) to aggressive (100% stocks)

Are falsely marketed by confusing accumulation value as being inheritance or cash surrender value.

Are falsely marketed by confusing income payment rate as being annualized return on investment (ROI).

Are falsely marketed by comparing fixed annuity income rate vs 4% rule, which increases with inflation.

You will never get the advertised guaranteed % "return" rate as a return on investment.

Your money is gone for life once you enter the income phase or "annuitize".

Your money is gone for good with most immediate annuities -- Beneficiaries get nothing or zero ROI.

"Income for life" really means "constricted for life".

"Guaranteed income for life" really means "guaranteed poverty later in life".

No ability to strategically rebalance after market declines (with SPIA's, fixed, indexed, immediate, etc).

A tax time bomb! Profit distributions will eventually be taxed at the higher ordinary income rate.

So-called "advantage" of tax deferral is over rated and usually negated (and then some) by higher taxes.

Distributions and withdrawals must be kept to a minimum each year due to the higher tax rate.

LIFO: By law, taxable gains must be withdrawn or distributed first -- untaxable principal last.

Extremely limited ability to use loses to write off taxable gains from annuity distributions.

"Guarantee" against loss of principal actually may not be guaranteed if insurance company fails.

Fixed accounts may not be guaranteed if insurance company fails.

All state guarantee funds have limits on how much they will actually guarantee.

Californians are particularly at risk of losing at least 20% of their so-called "guaranteed" money.

State guarantee fund may run out of money in the event of an industry wide systemic failure.

Terrible for heirs. No stepped up cost basis. Beneficiaries suddenly must pay taxes or may even get nothing.

Huge broker / adviser / insurance salesman conflict of interest: Obscene sales commissions.

Market timing not allowed with variable annuities.

Constricted by a complex, convoluted mess of insurance company contractual terms and conditions.

Constricted by a complex, convoluted mess of IRS and state tax rules.

Sales agents and insurance company reps don't fully understand annuities. False information is the norm.

You may have to hire lawyers and/or accountants to attempt to resolve various issues that may arise.
The sale of annuities is often a "breeding ground for fraud"
-- Bob Blumenfield, California Assembly Budget Committee Chair
"We don't recommend an allocation to annuities for any portion of your portfolio. We believe an age-appropriate allocation to bonds provides a similar boost to the likelihood you will have sufficient assets in retirement." -- Forbes Magazine
"Fee-only financial planners are not fans of annuities" -- David Marotta
"There's almost never a circumstance when an annuity is called for" -- Clark Howard
"Index annuities are a danger to your financial health." -- Clark Howard
"Insurance needs to be insurance. Investments need to be investments. You should never combine the two ever, ever, ever!" -- Suze Orman
"The likelihood that we're going to find [an annuity product] that meets our standards for your benefit isn't there. So you have to ask yourself, why are the other guys pitching that product? It's because they're looking out for their own best interests rather than yours." -- Ric Edelman
"...if the sales hype is replaced with analysis, most astute individual investors will avoid [index annuities]. Giving up dividends plus imposing a cap on market capital gains is far too severe a penalty to pay for protection against periodic market losses. Astute investors seeking long-term tax-deferred accumulation are likely to have their investment returns substantially muted by investing in indexed annuities, if history is any guide." -- Peter Katt, CFP, a fee-only life insurance adviser
"[indexed annuity] contracts have really high hidden fees. That's why they're terrible ideas for older people even though they're peddled to them." -- Kent Smetters, a former U.S. Treasury Department economic policy official and professor of insurance at the University of Pennsylvania's Wharton School
"[Equity-indexed annuities] carry exorbitant and indeterminable costs, lack of federal regulation and an inability to decipher what the investments will earn... They are complicated investments sold to unsophisticated investors." -- Craig McCann, Ph.D. and CFA, and Dengpan Luo
INDEX ANNUITIES EXPOSED: Two University professors (Yale and UCLA) discovered that investors would be better off in a simple portfolio of U.S. Treasury bonds and large cap stocks – a whopping 97% of the time! Other studies have suggested that when someone buys an annuity this typically results in a wealth transfer of as much as 15% to 20% from the investor to the insurance companies and the sales agents. SOURCE
Ric Edelman's list of 15 investments to avoid includes fixed annuities and equity index annuities.
"As a general rule, annuities are an inferior investment vehicle" - White Coat Investor
"You never ever want to buy an annuity that has a surrender charge" -- Bob Brinker
"Surrender fees for the 10 top-selling indexed annuities averaged 11% in the first year" -- Fidelity
"So what to expect down the road with the big annuity providers? Well, that road should be a rocky one in the days ahead." -- Jim Cramer
"Almost always, anything that can be done with an annuity can be done a better way" -- Fisher Investments founder
"most investors would be far better served to invest in a short-term, high quality bond index fund [than a fixed annuity]" -- Frank Armstrong, founder and principal of a Miami-based NAPFA fee-only registered investment adviser with more than $550 million of assets under management.
"The only way I could make a really good living was by going against the interests of customers" -- A former annuity salesman
"Backdoor agent commissions have a negative impact on the returns [clients] get and lengthens the surrender period involved" -- Fool.com
The performance chart that the insurance industry DOESN'T want you to see...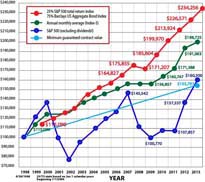 Have a question about annuities? Ask the whistle-blower.